FineArt Print
FineArt printing with Hahnemühle paper is perfect for those looking for a professional high-quality print with ultrachrome inkjet, the most advanced technology at the market.
This is an ideal product for photographic print by the author.
5 BUSINESS DAYS FOR PRODUCTION
Shipping conditions
Sizes
Check on the chart the formats available for this product.
20x20

20x30

25x25

30x30

30x40

30x45

30x60

40x40

40x50

40x60

40x80

50x50

50x60

50x75

50x100

60x60

60x90

60x100

60x120

75x100

100x100

100x150

M Linear. *
For out-of-measure formats, the above format is charged (eg for the 40x92, format it will be charged the 50x100). The intended format must fill the width and height of the following format. Prices for formats over 100x150 will be calculated by meter. No higher formats than 110 cm (smaller side) are produced.
---
Paper Options
You can print the product in the following types of paper.
Studio Enhanced Paper

Hahnemühle FineArt Studio Enhanced

Albrecht Dürer Paper

Hahnemühle FineArt Albrecht Dürer

Bamboo Paper

Hahnemühle FineArt Bamboo
---
Application for Wall Products
Giving, even more, life to photos and making unique pieces.
K-Line

Rigid and ultra-light with
a precise cut.

K-Mount

Lightweight and resistant ob«ver time and light.

Dibond

Rigid, scratch and waterproof resistant surface.
---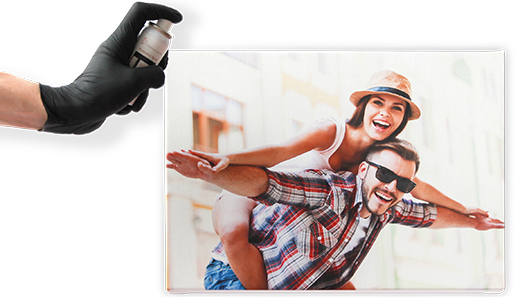 Spray protection
Protection against external damages.
Hahnemühle spray offers outstanding protection of photographic material. Perfectly adheres to the paper without changing its structure and protects the colors and paper against dirt, fingerprints and moisture.
---
Passepartout Option
Use the Passepartout option to differ the photographic work and to praise the quality, creating a unique product and to the level you desire.
With a handmade montage, this is a 100% cotton product, with a bevel cut (45°) and one perfectionist finishing. You can choose from various available sizes and types of paper.
---
Frames
The more traditional frame to a more modern, you can choose the most suitable for you. Selecting the type of frame only brings advantages. In addition is a guaranteed protection and will adorn and highlight the picture.
Lots of options.The introduction of the product will depend on the choice you made, can go to a vintage style, with a wooden frame, to something more provocative, brings together the choice of bright colors or highlight decorative elements.
---